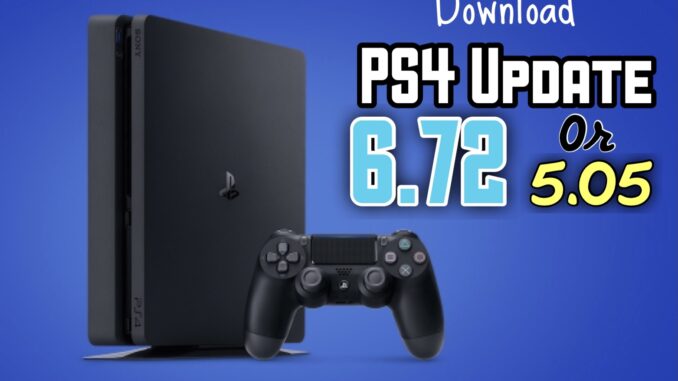 Download PS4 Update 6.72 OFW for the PS4 (FAT, SLIM, or PRO). This Update was officially released by Sony on July 16, 2019. You can use it to update your PlayStation 4 system software to version 6.72 OFW, The Flashable version of the PS4.
Download PS4 Update 6.72 From Here
The other update 5.05 OFW is also flashable, so you can jailbreak your PS4 console with this update.
Download Update 5.05 From Here
Sony Note that this PS4 systems software and system software updates installed on your system are under a limited license from Sony Interactive Entertainment Inc. Visit https://doc.dl.playstation.net/doc/ps4-eula/ for more details.
Also,  you should not install the system software shortly before or shortly after a power failure on your PS4 Console, and also Do not turn off your PlayStation 4 When installing the update, because Interrupting the installation may damage your PlayStation 4 system.
How to Update
 

Manually Your PS4 using a USB Stick :
On Your Computer, Connect USB Drive And Format it On FAT32 Mode.
Create a New Folder on Your USB Drive named " PS4 ".
Inside that folder, create another folder named "UPDATE".
Download PS4 Update 6.72 or 5.05 ( link at the beginning of this article) and save it in the "UPDATE" folder. Save the file as "PS4UPDATE.PUP"
So you will create on the racing of your USB Drive: PS4/UPDATE/PS4UPDAT.PUP
Eject Your USB drive containing the system update file From Computer And Connect it in Your PS4 console.
Start your Playstation 4 and start updating your PS4
If your Playstation 4 does not recognize the update file installed on your USB key, try to check that your USB key is formatted in FAT32 format and that the names of the folders and downloaded files are correct. Enter the folder and file names in uppercase characters.
If this process also fails, you may need to reinstall the system software. This process is identical to a 'factory reset' and will restore the console to its original state – if possible, back up your system data before you begin.