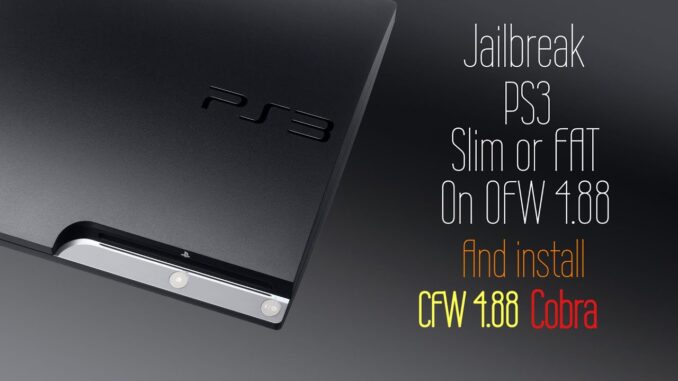 In This tutorial i will show you how to Jailbreak PS3 On 4.88 or lower, and install CFW 4.88 Cobra
– PS3 compatible with CFW 4.88
FAT models: CECHA0x, CECHB0x, CECHC0x, CECHE0x, CECHG0x, CECHH0x, CECHJ0x, CECHK0x, CECHL0x, CECHM0x, CECHP0x and CECHQ0x
Slim models: CECH-20xxx and CECH-21xxx
– PS3 No compatible with CFW 4.88
PS3 Slim models : CECH-3xxx
PS3 Super SLIM Models: 4xxx
– Prerequisites for Jailbreak PS3 On 4.88 and install CFW 4.88 Cobra
A compatible Playstation 3
Computer
A USB Drive formatted in Fat32 mode
Related tools
Download Files From Here ;
CFW 4.88 Cobra : CFW 4.88
If you have a console with an OFW lower than 4.88, you Must upgrade to 4.88
if you have OFW 4.86 you can try this method
Note, Do not try this method on an unsupported console, can brick your Playstation 3.
also, note that you should not use PS3Xploit on a console already in Custom firmware, it will also be a brick assured of your console.
Jailbreak installation : 
Update Your PS3 To 4.88 if you Have firmware lower than 4.88.
Connect your ps3 to the internet.
Open your browser.
Delete cookies and cache…
Enter the website: ps3xploit.com
Go to BG toolset then Main site
Select flash memory manager
Flash memory Patch
Load Patch Via HTTPS
Reselect Flash Memory Patch
Apply loaded Patch
Restart Your PS3
Now prepare your USB key with CFW
Download CFW 4.88
Extract Downloaded File
Connect Your USB Drive to Computer and format it On FAT32 Mode
Send The Folder PS3 to USB drive
Eject USB From PC and Connect it to Your PS3
Update your PS3 By Selecting via Storage Media
Congratulation, Jailbreak PS3 On 4.88 and install CFW 4.88 Cobra finished Successfully
You Can Follow This Video to Fully Understand The Jailbreak Of Playstation 3 FAT & SLIM On 4.88 OFW or Lower and install CFW 4.88 Cobra.
If You Have Any Questions, Feel Free To Leave A Comment Below;