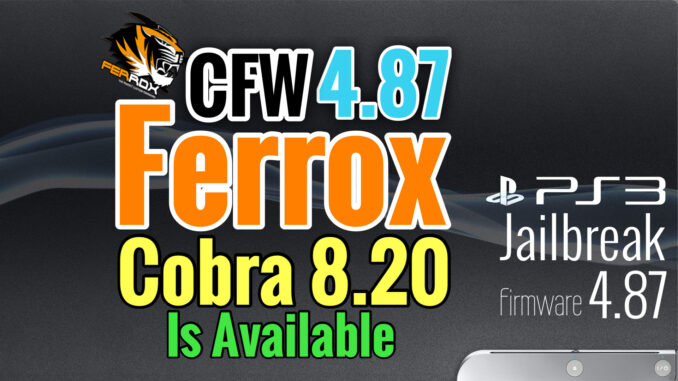 The Italian programmer Alexander offers us once again his new Custom Firmware for the latest version CFW 4.87 Ferrox Cobra 8.20, it incorporates the developer's usual settings, with once again XMB mods.
download CFW 4.87 Ferrox Cobra 8.20
FEATURES OF THE new CFW 4.87 Ferrox Cobra 8.20
Built as usual based on official Sony firmware 4.87.
PSN / SEN activated.
Possibility to update from any CFW (CEX).
Possibility to update from OFW 3.55 and original firmware 4.87 [with PS3Xploit compatible consoles only]
Ability to downgrade from any CFW with active QA indicators.
Active QA indicators if they were previously enabled.
FEATURE – COBRA Patch 8.20 added
FUNCTIONALITY – New optional look of the XMB (see FERROX Mod Installer below).
FUNCTIONALITY – Compatibility of PS2 games.
FUNCTIONALITY – Compatibility of PSP games in ISO / Minis / Remaster format.
FUNCTIONALITY – Compatibility with the latest version of ReactPSN.
FUNCTIONALITY – RSOD screen bypass for consoles affected by RSOD.
FUNCTIONALITY – 4.87 keys to start games signed with 4.87 keys
FUNCTIONALITY – App_home / PS3_GAME.
FEATURE – XMB In-Game screenshot – look for the option in the Photo column of the XMB In-Game.
FUNCTION – Support remote play.
FEATURE – Integrated Package Manager, replaces classic installer package files.
FUNCTIONALITY – Added temperature display in XMB In-Game on PS2 games. Thanks to 3141card.
PATCH-LV1: Fixed to remove LV2 protection.
PATCH-LV1: Correct coreOS hash check to prevent Brick on downgraded non-dehashed consoles.
PATCH-LV1: Peek & Poke.
PATCH – LV2: Peek & Poke.
PATCH-PS3 BT remote patch.
PATCH-PS3 BluRay Disc Patch.
PATCH-Epilepsy message disabled on startup.
PATCH-CINAVIA Protection Completely disabled.
INSTALLATION of CFW 4.87
Download CFW 4.87 at the top of the page. and Rename the .PUP file to PS3UPDAT.PUP
plugin a USB key into your computer and formatted it in FAT32 mode.
at the root of your USB key create a folder called PS3, inside the PS3 folder, create another folder called UPDATE, and inside the UPDATE folder insert the PS3UPDAT.PUP file, which would be the custom firmware CFW 4.87.
Eject the USB Flash Drive from your Computer and Insert it into the rightmost port of your PS3.
Make sure to: Remove any disc from the PS3 player and unmount all games loaded with any Manager.
You can now choose to install CFW from XMB or Recovery.