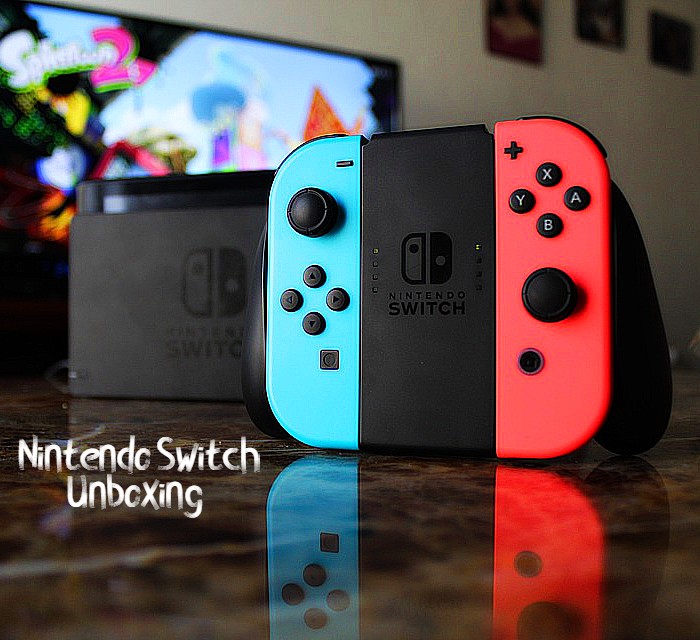 The Nintendo Switch console officially appeared worldwide on March 3, 2017. It was the first console to be hybrid (console connects with Television or portable console).
Nintendo Switch games come in two versions, Physical Games (on cards) or digital games (you can download them from the Nintendo Store (Nintendo e-shop).
When you buy your Nintendo Switch, you can buy a console pack only, or a pack with a single game (physical or digital). or with several games),
Here is the full contents of Nintendo Switch console box:
Console.
2 Joy-Con controllers (2 black or 1 black / 1 pink)
2 Joy-Con wrist straps.
A docking station.
Joy-Con support.
The power adapter.
The HDMI cable.
The pack is available in 2 versions: with blue and red Joy-con (small joysticks), or with gray Joy-con.
Image quality
The visual experience offered by the Switch obviously depends on how you play it. On a TV, the console outputs a signal in Full HD (1,920 x 1,080 px), but switches to 1,280 x 720 px in "portable" mode. In both cases, the level of graphic detail is of course far from what a PS4 or Xbox One can offer, but we are clearly dealing with the most powerful portable console on the market. A game like The Legend of Zelda: Breath of the Wild is therefore particularly impressive when played in "portable" mode.
Battery life and portability
Announced between 2.5 and 6 hours by Nintendo, the autonomy of the Switch corresponds to what can be expected from a couple "4310 mAh battery + Tegra chip". By setting the brightness to 50%, headphones plugged in and airplane mode activated, we were able to play Link's last adventure for 3h22 before the console was turned off, which is generally what was indicated by Nintendo. A full recharge, by connecting the console directly to the USB-C charger, took 2h55. It is in any case regrettable that Nintendo did not opt ​​for a fast charging system.
STRONG POINTS
A very powerful portable console.
Ergonomic and well thought-out Joy-Con.
Modular at will.
There is No problem observed between the portable console and the connected television console.
The Famous Game Zelda.
WEAK POINTS
Very fragile crutch.
Average autonomy.
Screen color not ideal (temperature too cold).
Lots of reflections.
Impossible to do anything other than play (for the moment).
Low power of the headphone output.
Any "tablet" design and large screen borders.
The Packs already Released from Nintendo Switch 
Nintendo Switch Super Smash Bros Ultimate Pack: This pack including the Nintendo Switch console with the colors of the famous Super Smash Bros Ultimate game. and also with a code to download the game. this pack was announced as part of Nintendo Direct on 09/14/2018 last.
Nintendo Switch Diablo3 Edition Pack: This pack was advertised on October 2018 and released on November, this pack contains the Nintendo Switch console in Diablo3 game colors. Plus a download code for Diablo3: Eternal Collection on Switch with an exclusive Ganondorf set.
Nintendo Switch Pack Pokémon Let's Go Pikachu / Eevee Edition: This pack including a Switch in the colors of Pikachu and Eevee, a code to download the Pokémon Let's Go Pikachu or Eevee game and a Poké Ball Plus was announced on 09/10/2018.
Nintendo Switch Fortnite Special Edition Pack: This Pack Contains, A Nintendo Switch console with a unique Fortnite design on the back of the console, and A Nintendo Switch docking station also with a unique Fortnite design. Plus A download code for the Panther Pack which will give you access to the Panther outfit with two additional styles, the Silky Kit back accessory with two additional styles, and the sum of 2000 V-bucks. Plus An exclusive Yellow Left Joy-Con and Blue Right Joy-Con, and The Fortnite game preinstalled.
Comparison between the Playstation 4 and the Nintendo Switch console;
Choosing between The Playstation 4 and the Nintendo Switch is no easy feat as the two consoles are opposite. Your decision will depend on your personal preferences, roaming vs. home, graphics vs. portability, and most importantly, the types of games you would like to play.