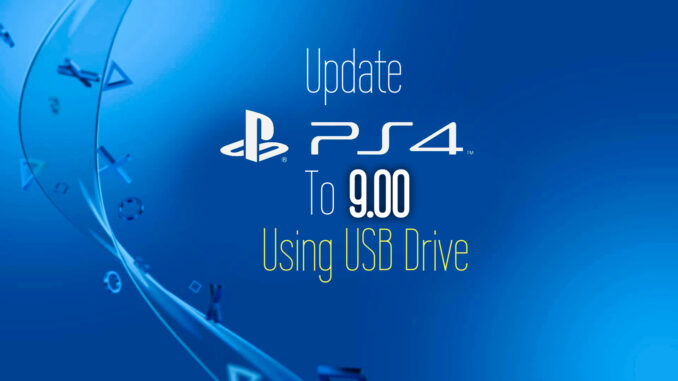 If you have firmware below 9.00 OFW on your PS4 or above 7.55, now is the time to update to version 9.00 OFW on your console.
With this version, you can finally jailbreak your Playstation 4, and therefore install the PKG games on your console.
The jailbreak of Firmware 9.00 is more stable and simpler than that of version 7.50 or 7.55.
So, if you encounter problems with the jailbreak of 7.50 and 7.55, I advise you to Update PS4 To 9.00 OFW and try its jailbreak.
How To Update PS4 To 9.00 Official Firmware Using USB Drive
To Update System Software On a Playstation 4 Console using USB Drive, follow these instructions below:
Download The Update File to 9.00 From Here: PS4UPDATE.PUP 9.00
On Your Computer Or MAC, insert USB Drive And Format it in FAT32 Mode or exFAT Mode.
on The USB drive; Create a folder named PS4.
Inside that folder (PS4), create another folder named UPDATE.
inside the "UPDATE" folder, paste the downloaded file PS4UPDATE.PUP.
Eject USB Drive From a Computer or Mac.
Plugin USB Drive On Your PS4.
Start Your PS4 And Select Settings.
Go-To System Software Update.
 Update To 9.00 OFW Detected From USB.
Start Update By Clicking NEXT.
You Can Also Update Your PS4 To 9.00 OFW Using Save Mode On Your Console. Follow these instructions below to apply this method also:
Use Your Mac or Computer, and create a folder named "PS4" on Your USB Key that is formatted in FAT32 or exFAT Mode.
Inside The folder PS4, create another folder named UPDATE.
Download the update file PS4UPDATE.PUP
Save the downloaded file: PS4UPDATE.PUP in the Folder UPDATE.
Eject Your USB Drive From Your Computer or Mac, and Plug it into your Playstation 4.
Start your PS4 in Safe Mode ( To do this, press and hold the power button on your PS4, releasing when you hear the second beep from your PS4.
Select Safe Mode option 3: Update System Software.
and select Update from USB Storage Device
Click OK to start updating.
For more information or any questions, please leave a comment.